A Row House offers an elegant style, comfort, and cost-effectiveness. The row houses are always preferred where the balance between luxury and affordability has to meet. This article gives you a complete overview of a row house, its characteristics, benefits, and comparison with the other property types. It also explores the best modern row house designs, row house plans, and best places to buy row houses in India.
What is a Row House?
A row House is a housing unit among a series of identical units that share the same facade, walls, terraces, or roofs. Row houses are popular as they are compact, affordable, and have attractive design features.
Row houses are considered ideal for investment. As they are not only efficient but also provide an element of prestige.
Row houses have become popular in urban regions primarily because row houses offer quality housing units within limited space. Therefore, the property buyers get elegant residences with the benefits such as low cost, low maintenance, community living, and quality amenities.
Brief History of Row House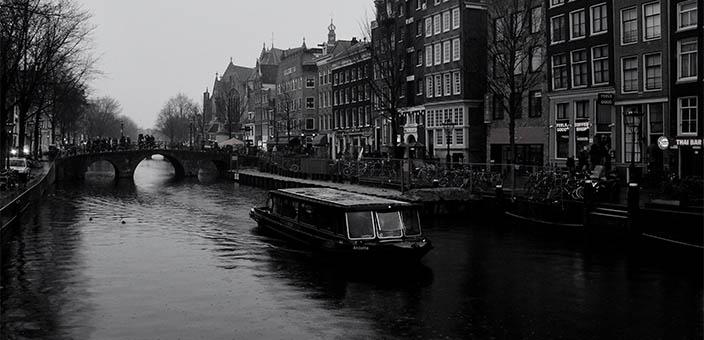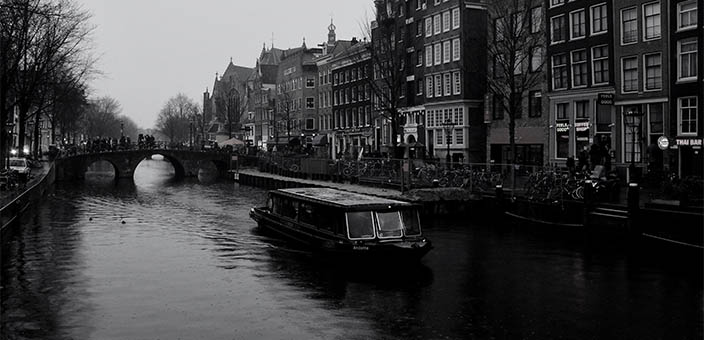 Row houses were first built in the 16th century in Europe. Belgium and Netherlands were the first countries where the concept of Row House became popular.
Then, because of their compact and highly appealing design styles, row houses were used in other European cities. Further, in the 19th century, row houses were preferred while doing city planning and renovation of Paris.
Row houses became a great option to deal with the space crunch of developing cities. The middle working-class families choose Rowhouses because of the affordability and conveniences.
The history of row houses in India goes back to British Rule. The British government also preferred row houses in their city planning in India. Cities like Mumbai, Kolkata, Bangalore, and Delhi had row houses for the families of British officers.
This concept of row houses has inspired most Indian buildings and architecture we see today. The row houses are still in demand in India and have become the emblem of luxury and comfort.
General Features of Row House
Following are the general features of a row house.
Row houses are developed in a row along the side of the road.

Row house shares the exterior, gates, and terrace with other identical row houses.

All the row house units in a row have identical designs.

Row houses may have common gates but independent entry.

Row houses are generally 2-3 stories high.
Benefits of Row House
Following are the row house benefits that make them stand out from the other types of property.
Offers quality residences and high-class design features.

Modern amenities at a comparatively lower price.

Easy to maintain and efficient utilization of the space.

Provides privacy and security.

Dedicated parking facilities.

Gives a higher undivided share (UDS).

Construction cost is lower than bungalows.

Experience of community living.

Good from the investment perspective.
Best Row House Designs
Following are the most famous row house designs used all over the world.
Federal Design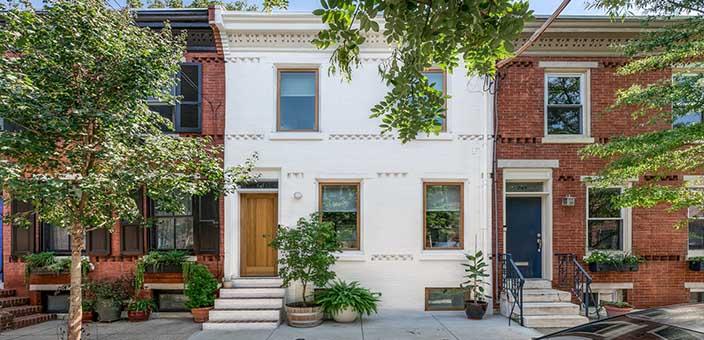 The Federal row house design has a simple but attractive architecture. Federal Design row houses are 2-3 stories high and have a red brick upper face. The double-hung window is mostly suitable for the Federal Design.
Beaux-Arts Design
Beaux Row House designs are symmetric and uniform in design. Generally, these designs have light-colored brick linings. The use of white marbles and limestone makes the Baux-Arts design attractive.
Colonial Revival Design
Colonial Revival Design uses elements of attractive design motifs. This design uses red bricks for the facade. The widows in Colonial Revival designs are double or multi-pane type. Also, the design has six to eight wooden doors.
Gothic Revival Design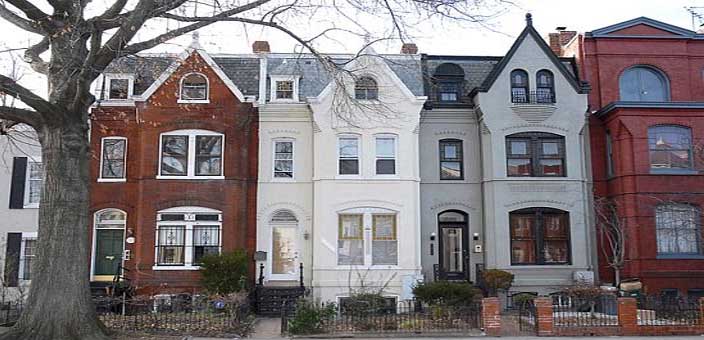 This design gives importance to the natural styles and elements. It has the specialty of brilliant projecting ornaments. Brownstone in trimmed or full fashion is used in Greek Revival row house designs.
Greek Revival Design
Greek Revival Design gives emphasis on the bold elements of architecture. The stoop for the Greek Revival Design is of medium height.
Italianate Design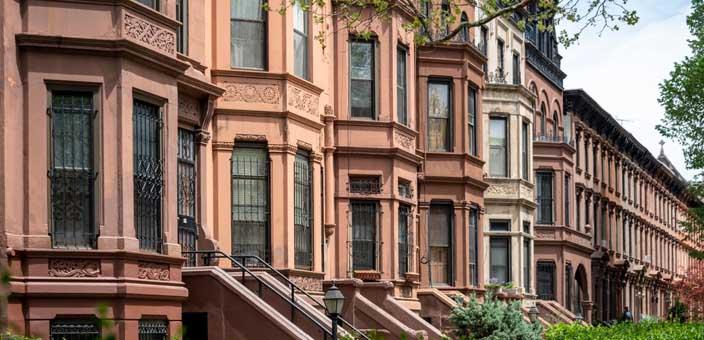 The Italian design emphasis repetitive design forms. The Italian design row house is 2-4 stories with the brownstone facade and basement. Also, the Italianate designs have projecting stone windows.
Neo Greek Design
Neo Greek designs are 2-5 stories high red brick or brownstone.
Neo-Greek designs mostly have angular forms and great design details. Neo Greek design has high stops and heavy decorative elements.
Anglo-Italianate Design
These row houses are 3-5 stories high. The texture of the row house is brownstone or bricks. The Anglo-Italianate Design has other exterior features such as arched design, double-leaf wood door, round arch, or square-headed and multi-paned windows.
Queen Anne Style Designs
The Queen Anne Style designs have the unsymmetric arrangement of the design elements. Different color combinations, materials, and textures are used for the Queen Anne-style row house design.
Second Empire Style
The second empire style is similar to the popular Italian style. This design style is 3-5 stories high. The stoop for the second empire style is wide and has a brownstone facade.
Modern Row House Designs
The modern row houses are inspired by the traditional architectural style of row houses. However, modern row houses stand out for their cost-effectiveness and excellent design features.
The modern row house designs emphasize providing more space, amenities, and a comfortable lifestyle. The exterior of the modern row house designs is more subtle with impressive characteristics.
Feature of the Modern Row House Design
Offers more space and amenities
Quality exterior that gives robust design
Good durability and life expectancy
Give comfort and better possibilities of personalization
Row House Plan
The row house plan differs according to the number of floors. Generally, the row house has two floors. The living rooms, kitchen are on the ground floor. Whereas the bedrooms and balcony are on the first floor.
Row House Plan includes the following-
Ground Floor
Parking Area

Gallery

Living Room

Bedroom

Toilet
First Floor
The Front and Back yard is also a part of the Row House Plans. In cities, because of the limited space, row houses do not have front and back yards. Some row houses also have a basement facility.
Difference between Row House, Bungalow, and Apartments


There are stylistic and technical differences between Row House, Bungalow, and Apartments.
These all three are popular types of property and have their unique specialties.
Let's understand the fundamental difference between Row House, Bungalow, and Apartments by considering the main parameters.
Row House
Row House is a multistorey housing unit among the series of identical units lined shoulder-to-shoulder with a common wall, terrace, or roof.
A row house is a multistorey unit among the series of identical units lined shoulder-to-shoulder and share the walls and terrace.
The row house is affordable than the bungalow and also has an element of luxury and comfort.
Bungalow
The bungalow offers luxury, privacy, and complete personalization.
Even though the bungalow is comparatively expensive, it is a valuable property type for its richness and uncompromised comfort.
Apartments
Apartments are the most compact and the most in-demand property type. It offers comfort, safety, and community living. However, the possibility of customizations is limited for the apartments.
| Row House | Bungalow | Apartment |
| --- | --- | --- |
| Row House has relatively less construction cost | Construction cost is comparatively higher and depends upon the customizations. | The share of the cost of construction is less for the buyer. |
| The aesthetically appealing design and architecture | Complete flexibility for the innovative designs and personalization. | The exterior design plays a limited role in the case of apartments. |
| Gives you a combination of privacy and community living | Offers complete privacy and accessibility | Offers better Community living |
| The maintenance cost for the Row House is comparatively lower | Bungalow can have higher maintenance costs depending on the use and size. | Shared maintenance costs reduce the net applicable maintenance to the individual |
Best Places to Buy Row Houses In India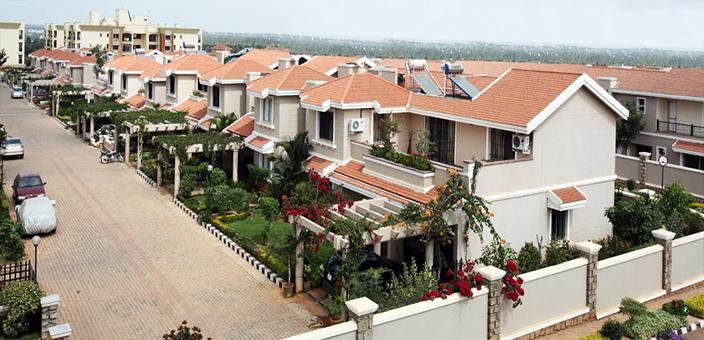 Pune
Pune has ideal settings to buy a Row House. The city offers a peaceful environment, good facilities, and planned development.
The posh areas in Pune have some of the most brilliant row house designs in India. Also, the price of the Rowhouses in Pune is cost-effective as compared to the other cities.
There is an increasing demand for row houses in Pune, as it offers a balanced and comfortable lifestyle.
Mumbai
Mumbai is a prime real estate destination. Even though the availability of row houses in Mumbai is limited, some quality row houses stand out.
The price for the row house in Mumbai is higher in comparison to other cities. Still, the dynamic lifestyle makes it perfect for investment in a row house.
Bangalore
Since Bangalore is tops in the livability ratings and affordable prices, it is a perfect place to buy a rowhouse.
The posh areas in Bangalore offer a serene environment for row houses. Property buyers are preferring these localities as they are affordable and give a quality living experience.
Chennai
Certain places in Chennai are becoming popular for buying a row house. These localities are giving the benefits such as proximity to prominent IT and employment hubs, quality social infrastructure, and impressive development plans.
Also, the prices of row houses in Chennai are moderate and have the potential for good returns.
FAQs
Is Row House a good investment option?
Row House is known for its outstanding design features and cost-effectiveness. Buying a row house is considered a good investment as it offers a quality lifestyle at comfort at an affordable price range.
What are the benefits of Rowhouse?
Row House offers benefits such as low construction and maintenance costs, luxury and comfort, quality amenities, privacy, security, and community living.
What is different between Row House and Flats?
A row house is a housing unit among the series of identical units which share the same wall, terrace, or roof. Row house gives more space and access to quality amenities and facilities.
A Flat is a housing unit that is a part of the larger building where the amenities and facilities are shared.
Which are the best places to buy Row Houses in India?
Pune, Mumbai, Navi Mumbai, Bangalore, Chennai are some of the best places to buy row houses in India.