Whether you are living in a Row House or an Apartment, they both have their pros and cons. Row houses are a good option for people who want their privacy, space, and who think that living in such places is a good option because residential properties with apartments can sometimes become crowded. But, if you are a person who wants luxury along with amenities like a pool, garden, gym, amphitheater, etc. all under one roof, then residential apartments are best for you. The main benefit of living in an apartment is that you do not have to worry about water supply, security, etc. all of this is taken care of by the builder. And if you opt to live in a Rowhouse, you don't have to worry about spending much on maintenance charges, have your luxury, peace, and calm.
Let us understand the difference between a Rowhouse and an Apartment
Rowhouse – The area offered in row houses is bigger than an apartment but smaller than the area of a bungalow. The price of rowhouses is usually more than apartments. It is because you have space and luxury all to yourself. Row houses are usually built in places that are located in the outskirts of cities. And as mentioned earlier, maintenance charges are all born by the owner and the association.
Apartments – Nowadays even apartments have started offering space and luxury in the best possible way. However, it has still not matched the size of Row houses. Also, the price range of an apartment is generally much lower than a Row House. And all the maintenance is looked after by society or the builder.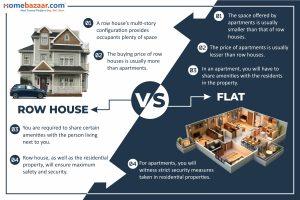 Here are a few parameters that could help you make the right decision for choosing between an Apartment and Row house.
Experience living in an Elegant home – While it may seem exciting to choose residential properties to live in an elegant apartment, row houses have their benefits. You get the chance of experiencing independent living with row houses and also create an identity of your own. The built of a row house allows you to breathe the air of independence along with appealing architecture.
Luxury and Space- In several ways, a row is almost similar to bungalows but less in space. A row house's multi-story configuration provides occupants plenty of space as well as privacy, which isn't the case when you choose an apartment. On the other hand, you can experience luxury and attractive facilities by living in an apartment.
Amenities – Apartment and row houses both have access to amenities but in row houses, you are required to share certain amenities with the person living next to you. And in an apartment, you will have to share amenities with the residents living on the property. When it comes to having a wide range of amenities, there is absolutely no doubt in the fact that an apartment offers more amenities compared to a Rowhouse. However, this completely depends on your choice and the kind of property you are looking for.
Protection and Safety – Here both Rowhouse, as well as the residential property, will ensure maximum safety and security. However, you will witness strict security measures taken in residential properties.
Pocket friendly – There are attractive benefits of living in Rowhouse, some of them are, Independent living, Privacy, Multi-story built, etc. and all of this is not possible to get while living in an apartment. But there is a cost to it, Row Houses are much more expensive than apartments.
So the choice is yours to make! Just make sure all your requirements are met before making the right decision.