Investment in commercial properties is often rewarding for its high Rental Returns and Capital Appreciation with some reasonable challenges and risks. The evolving real estate ecosystem in Mumbai has been showing good commercial property investment prospects. So, check out the main reasons to invest in commercial properties in Mumbai.
First up, what exactly falls under the commercial property segment? 
Basically, it is the area dedicated specifically to earn profits. The commercial property investment means buying small shops, office spaces, retail stores, or more dedicated categories such as warehouses, industrial spaces, etc., and get consistent returns through rents or reselling the property when the market is up.   
The investment in the commercial properties is best known for its-
Attractive Rental Rates

High Rental Yields

Capital Appreciation

A Positive & Less Specific Demand

Low Vacancy Rate And Impact

Longer Lease Periods & Continuous Cash Flow

Good ROIs
Investments in commercial properties, however, involve some challenges and risks. 
For example, in the case of commercial real estate investment in malls, different shops are owned by individual investors. And with improper property management, maintenance, and an overall ineffective real estate ecosystem may not give the expected returns. Other challenges could be high capital investments and the long-term horizons.  
But still, the commercial properties outrank the residential properties by giving comparatively double returns.  
Provided that a broader outlook on the entire commercial real estate ecosystem is considered. This involves the important factors that decide positive return from commercial property investments such as-
Property Valuation

Market Dynamics  

Who is Managing The property

No of Units

Future Growth of the region

Location
 The location is at the center of the entire commercial real estate ecosystem. As the right location ensures continuous cashflows, reduced risks, and better ROIs. 
So what makes a location better for commercial real estate investments?
Good Commercial Space Demand

Growing Economic Activities 

Infrastructure initiatives

Industrial Hubs

Proximity To Markets

Favoring Policies 

Centrality
Are some of the important points that define the suitability of the location for commercial property investment.
Mumbai is one of the cities considered ideal for investments in commercial properties. Being the economic capital of India, Mumbai leads on all the commercial real estate fronts. So, here are the top reasons to invest in commercial property in Mumbai.
Growing Commercial Hubs: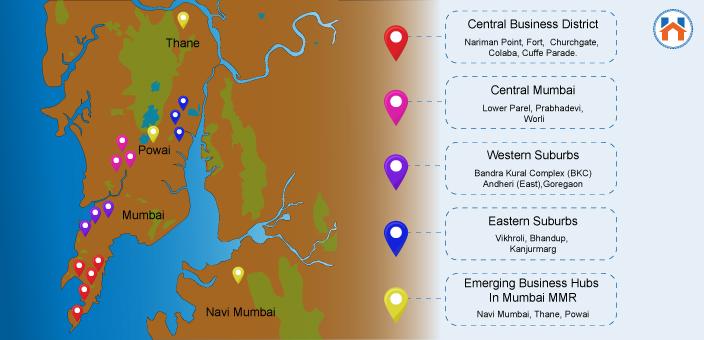 Along with the existing established commercial centers in Mumbai, there are some emerging commercial centers in the surrounding regions with rapidly growing infrastructure. Navi Mumbai, Powai, and Thane and commercial centers in the eastern suburb are emerging hubs in Mumbai. 
All the commercial hubs Have the benefits such as-
Sound Connectivity

Advanced Infrastructure Projects

Good Demand For Commercial Spaces

Growing Economic activities

Many Potential Locations For Future Growth
Locations
Industries
Central Business District
Nariman Point, Fort, Churchgate, Colaba, Cuffe Parade.
Financial Institutions, Bank Sector, MNCs
Central Mumbai
Lower Parel, Prabhadevi, Worli
MNCs, IT, Textile,
Western Suburbs
Bandra Kural Complex (BKC)
Andheri (East)
Goregaon

Banking Sector, MNCs, Finance, Chemical, IT, Media Finance.
Eastern Suburbs
Vikhroli, Bhandup, Kanjurmarg
IT, ITES, Manufacturing
Emerging Business Hubs In Mumbai MMR
Navi Mumbai, Thane, Powai
IT, Manufacturing, MNCs, Chemical, Finance
Notable Trends
BKC has emerged as a great alternative to the Business District Centre (BDC). Commercial properties in BKC has given higher return since its inception. There also has been the rise of residential properties in BKC making it an even more attractive destination for commercial investment. 
BKC's centrality has played a key role in its development. Moreover, it is very well connected by railway network (Bandra & Kurla nearby stations), western and eastern express highway and has proximity to the domestic and international airport. 
Andheri East has also gained significance because of established hubs such as MIDC and Seepz. The region has been emerging as a commercial hub with the presence of the IT sector, Pharmaceutical Industry, Manufacturing, logistics, entertainment, and finance. 
Navi Mumbai, Powai, and Thane are the newly rising commercial hubs of Mumbai. This is because-  
Advanced infrastructure projects such as Navi Mumbai International Airport.
 The economic activities in these regions have been scaled over the last few years and expected to continue this trend. 
There will be a high demand for office spaces, retail shops in Powai for its thriving IT sector. And industrial spaces, offices, warehouses, retail spaces for Navi Mumbai and Thane with rising MNCs, IT, Manufacturing, chemical, and finance sectors in the region. 
There is an increase in the affordable residential housing development in these regions and hence pushed the commercial real estate sector. 
With the more demand for commercial space in the region along with the advanced infrastructure projects, these locations are perfect for investment in commercial property in Mumbai. 
Growth For Every Commercial Property Segment. 
The three main commercial property segments are Office, Retail, and Warehousing. For Mumbai, there is considerable demand for all three commercial segments with promising growth avenues. 
Let's have a look at each of them with some important statistics proving Mumbai as one of the best places for real estate investment.
Office Spaces: 
Over the last decade, the average returns from the office space in Mumbai have been 8-12% along with significant rental yields. 
In Mumbai, there have been increasing office space investment trends. Currently, The private equity investment in office spaces in Mumbai has been all-time high since 2011. 
For the first quarter of 2021, Mumbai is the top destination as per private equity investment. 
City Wise Graph of Private Equity Investment In Office Spaces: (For Q1 2021)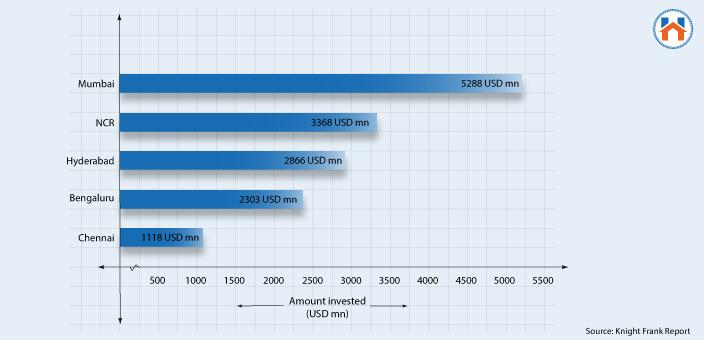 BKC & Navi Mumbai and the Thane region have been the popular locations for real estate investment in the office spaces. These locations have been set for good return in upcoming years considering the favorable real estate ecosystem.  
Investment in Warehouses:
The demand for warehouses spaces has been sharply increasing in Mumbai for three primary reasons- Manufacturing, Imports/Exports, and the high consumption pushed by eCommerce.
Bhivandi, Panvel, and JNPT are the three warehousing clusters in Mumbai. 
Warehousing cluster Major warehousing locations in Mumbai:
Bhiwandi: Mankoli, Kalher, Kasheli, Dapode, Padgha, Vashere, Vadpe, Saape, Lonad, Bhavale, Sawad Naka, Dohole, Sonale, Anjurphatta
Panvel:  Palaspe, Uran Road, Taloja, Patalganga
From 2017-2020 there was around 69% growth in the Warehouse transaction in Mumbai. This is the highest number among all the Indian cities.
Industry-wise Distribution Of warehousing in Mumbai.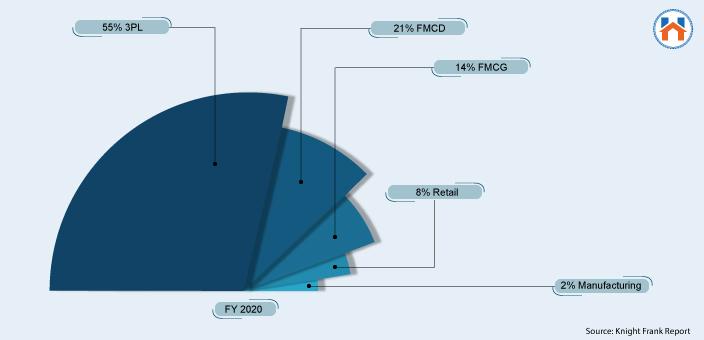 Investment in Retail Spaces:
The key location for the investment in the real estate is Lower Parel, Andheri,
Colaba and Bandra.
The Retail landscape in Mumbai is mainly driven by the emerging eCommerce industry and the new innovative ways of customer experience. The flexible leasing terms and design conversions have been the key to the successful investment in the Retail spaces in Mumbai.
According to current market trends, Mumbai has the most retail investment as compared to the other cities.
City Wise Graph of Private Equity Investment In Retail Spaces (For Q1 2021)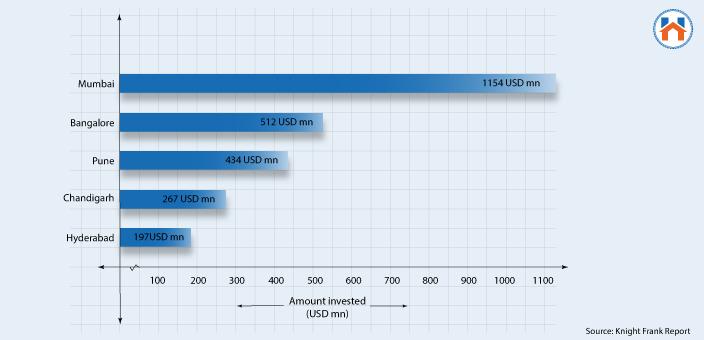 Promising Infrastructure Growth:
The advanced infrastructure projects in Mumbai will have a positive impact on the commercial real estate market because-
The infrastructure projects will scale up the economic growth in the entire Mumbai MMR region.

New connectivity networks will open up new markets with cost-effective investments and positive growth in the future. 

Infrastructure corridors will create a good economic impact on the regional belts

Establishment of the new industries with increased commercial property investment avenues. 
Mumbai has already established connectivity that plays a key role in driving the economic activities in the region. Moreover, the upcoming projects which are likely to be completed between 2023-2030 will redefine the economic landscape of the Mumbai region. 
Infrastructure Projects In Mumbai MMR (To be Completed Between 2023-2030)
Project
Connecting
Key Impact
METRO LINE – 2A
DAHISAR- DN NAGAR
Boost to Retail Spaces Mald, Charkop, Ekta Nagar
METRO LINE – 2B
D N NAGAR MANDALE
Connect BKC to Residential Areas.

Boost for Office Spaces Commercial investment.
METRO LINE – 3
COLABA-BANDRA SEEPZ
Covers Marol-MIDC belt.
Redevelopment of mill land parcels in Lower Parel
BKC Connectivity


METRO LINE – 4
THANE (KASARVADAVALI) WADALA
Development Wadala truck terminus as BKC-2

New Opportunities for Commercial Real Estate investors. Office Spaces, Industrial Spaces.

METRO LINE – 5


THANE BHIWANDI KALYAN

Availability of warehouses for redevelopment at Kalher-Anjurphata-Bhiwandi belt


Affordable Housing at Bhiwandi.

METRO LINE – 6


LOKHANDWALA VIKHROLI (EEH)
Availability of warehouses for Industrial units in SEEPZ-Powai belt to get the traction.
METRO LINE – 12
KALYAN TALOJA
Affordable housing along with the scope for the commercial office space.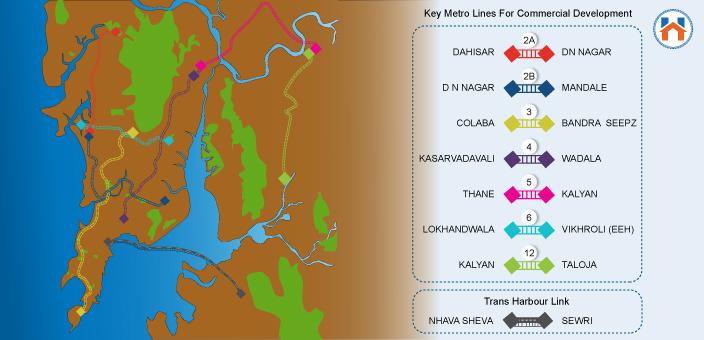 Positive Future Outlook:
The DCPR, 2032 is an aspiring plan to transform Mumbai city on the economic landscape.
 The plan has proposed several approaches to scale up the commercial development in the key area of Mumbai. 
Boost to Mumbai Commercial Real Estate Sector through-
Increasing the permissible Floor Space Index (FSI)

Additional FSI for IT, ITES, Smart Fintech Centres, Biotechnology Centres

Through re-development of cotton textile mill lands

Conversion of industrial plot
Let's compare the existing commercial landscape of Mumbai and the estimated commercial development by 2032 according to the DCPR.
Parameter
Existing Commercial Market
As of 2019

Future Commercial Development 2032
Sectoral share of
Primary-Secondary-Tertiary
Economic activity

Primary Sector 1%
Secondary Sector 31%
Tertiary Sector 68%

Primary Sector 0.5%
Secondary Sector 19.5%
Tertiary Sector 80%

Workforce participation
5.2 Mn
8 Mn
Per Capita Commercial office space consumption – market standard
7.5 – 8.5 Sqm
12.5 Sqm
Commercial Office space inventory
1304 Ha.
10,000 Ha.
Along with this, the development of the Special Development Zones in the various emerging parts of the city makes it a good prospect for commercial real estate investment in the future.
Key Takeaways: 
Commercial properties in Mumbai give better returns with some manageable risks. Mumbai as the economic cluster shows great potential for investment in commercial real estate because of-
Growing Commercial Hubs: Along with the established commercial hubs, there are some emerging locations in Mumbai that are ideal to invest in commercial property.  
Growth For Every Commercial Property Segment: Office Spaces, Retail Shops, and Warehousing have considerable demand in Mumbai. 
Promising Infrastructure Growth: The upcoming advanced infrastructure in Mumbai to strengthen the commercial space real estate ecosystem. 
Positive Future Outlook: The future of the commercial real estate landscape is encouraging with the scaling economic plans.